SMUD Career Exploration Event
Thursday, April 30, 2020
4:30 – 6:30 p.m.
SMUD Customer Service Center – 6301 S Street, Sacramento, CA 95817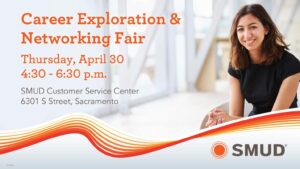 We're excited to highlight many different career paths and potential employment opportunites here at SMUD.
Participate in a panel session with our Chief Information Officer, Steve Clemons and the Information Technology Team.
Meet with employees from various departments like Human Resources, Accounting, and our field forces.
Participate in resume workshops (registration required) and create a SMUD Career portal profile.
Please feel free to come at any time throughout the event.
Event itinerary:
4:30 – 6:15 p.m. Registration – Check in at the Customer Service Center lobby
Last entry time for this event is at 6:15 p.m.
4:30 – 6:30 p.m. Career Exploration & Network
Meet representatives from different departments from all over SMUD including but not limited to IT, Engineering, Human Resources, Customer, Marketing, Finance/Accounting, Legal/Regulatory, Field Forces, and Energy Education.
4:45 – 5:15 p.m. Resume Workshop – Session 1
5:30 – 5:50 p.m. IT Panel Discussion in the Rubicon Room (limited seating – first come, first served) Hear about the wide variety of IT professions at SMUD.
6:00 – 6:30 p.m. Resume Workshop – Session 2
For questions about this event, please contact [email protected].
To learn more about our careers at SMUD, visit smud.org/Careers.