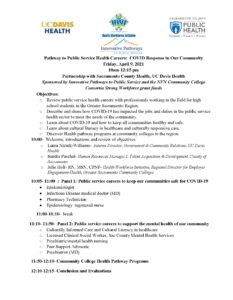 This April, educators and public sector employers across the greater Sacramento region are teaming up to host a series of events focused on raising awareness of public sector careers. "Careers in Government Day" is an annual event showcasing careers, skills, and pathways to success.
During the live events, students, teachers, and public sector industry professionals will discuss jobs, career paths that led to a professional's current position, resumes, how to use LinkedIn and network, and current events that are impacting the future of public sector jobs, including COVID-19 and social justice movements. Educators and employers are linking up through virtual platforms and protecting student privacy by removing cameras or interfacing through third-party platforms.
Given the evolving nature of school re-opening plans, some events are still being finalized. Below is a list of currently scheduled events:
Careers in Government Day 2021 – Series of Events:
The City of Sacramento through its Department of Youth, Parks & Community Enrichment hosted its virtual youth and jobs event on Saturday, March 20th for more than 300 local youth (flyer below). The City of Rancho Cordova is producing a video about city jobs to be released in May, 2021 for Public Service Recognition Week.
This year's #CIGD2021 events are sponsored signature partner, the City of Rancho Cordova.
#cigd2021
#publicsectorcareers
#governmentjobs